More Press
The game continues to be picked up by various websites (often unbeknownst to me). I've started a new page to track them here.
I never expected to be featured in a Giant Bomb Quick Look (way better than any video I could have made), or be tweeted by Gabe from Penny Arcade (possibly the cause of the spike in the chart below).
The latest stories have been in Cult MTL, Game Informer, and FastCoDesign (the design arm of Fast Company). And, just as I was writing this: Venus Patrol!
Also two of the Sportsfriends, Douglas Wilson and Ramiro Corbetta, both like the game! I'm really happy they got a chance to play it because Joust was one of my influences and those guys really understand local multiplayer, which is what Spaceteam is all about.
Metrics
Downloads and sales have been staying pretty steady at ~1200 downloads/~60 purchases per day. I still haven't been featured on the App Store yet and after a brief spike where I got to rank 222 in the Games category (US App Store) my ranking has now dropped to 761. The 5-star ratings from players keep coming in though.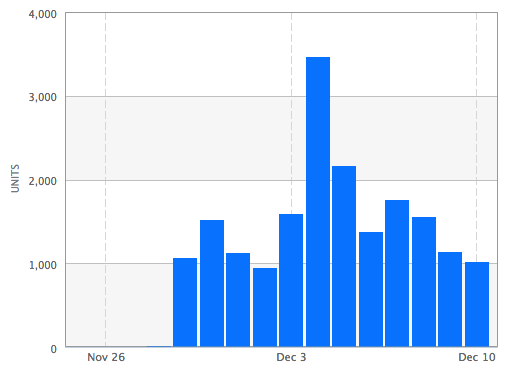 And, on December 4th I was the 55th highest-ranked Game in Slovenia! It's only been downloaded there 6 times, but nobody can ever take that away from me.
Version 1.1
I'm about to submit my first update. I fixed a connection-related crash bug, made some UI improvements, and added a new Symbol Pack upgrade with 108 new symbols!
Sneak preview:

Not sure how the version upgrade will affect ratings/downloads/visibility but I'm looking forward to finding out.
For the next update I'm planning more upgrades: a new challenge mode where you have to explicitly acknowledge every command, a handful of new anomalies, and a ship's cat!
Donations
Several people have expressed wishes to offer further support on top of the in-app purchases, so I've set up a donation button here on the blog (right sidebar).
Donations will mostly go towards travel/lodging/equipment to show the game at festivals and conferences like GDC and PAX East. I expect these to be my biggest expenses in the near future so any help I can get will set my gratitude meter to full power.
See you next time!
P.S. Robots are cool: @st_autopilot